Book direct benefits
We don't charge additional
fee for promotions.
Shuttle services.
Best Rate Guarantee.
An Anaheim Favorite For Theme Park Thrills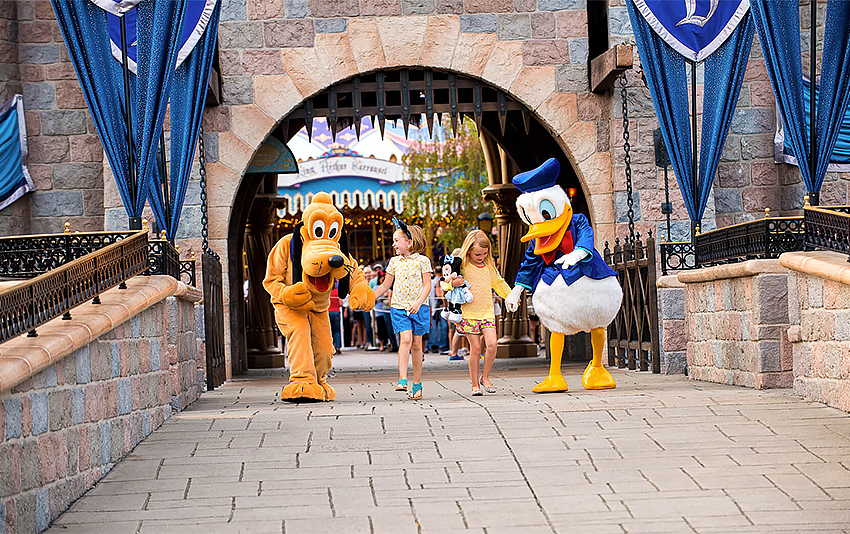 Just south of Los Angeles, Anaheim is best known as the West Coast address of Disneyland® Park. The sprawling Disneyland® Park spans 160 acres and welcomes more guests than any other theme park in the world. Beyond Mickey and Minnie, Anaheim and the surrounding area offers an array of family friendly attractions and experiences.
Family Friendly Attractions in Anaheim
Anaheim GardenWalk

321 W. Katella Ave, Anaheim

A unique outdoor shopping, dining and entertainment experience, Anaheim GardenWalk features stores, a luxurious bowling and entertainment center, a cocktail lounge and a movie theater – all set among gardens and waterfalls.

Distance: 0.5 miles

Disneyland® Park

1313 South Harbor Blvd.

"The Happiest Place on Earth" is located just 1½ blocks away from Cortona Inn & Suites. Disneyland® Park features more than 60 major attractions, including shows, breathtaking parades, 3D movies, roller coasters and one of its newer attractions, Star Tours - The Adventures Continue © Disney/Lucasfilm, Ltd.

Distance: 1 mile

Disney California Adventure® Park

1313 South Harbor Blvd.

Located adjacent to Disneyland® Park, this 72-acre theme park celebrates the history and culture of California with eight themed lands including Buena Vista Street, Paradise Pier, Hollywood Land and Condor Flats.

Distance: 1 mile

House of Blues at Gardenwalk

400 Disney Way, Anaheim

Opening in fall 2016, this rock and blues-themed venue will serve up Southern specialties and live music on four stages.

Distance: 1 mile

Downtown Disney® District

1313 South Harbor Blvd.

Tucked between the two theme parks, this outdoor shopping, dining and entertainment complex features dozens of shops and restaurants, as well as an AMC movie theater and monorail stop.

Distance: 1.2 miles

Christ Cathedral (Crystal Cathedral)

13280 Chapman Ave, Garden Grove

Designed by architect Philip Johnson in 1981, the Christ Cathedral (Crystal Cathedral) is the largest glass building in the world.

Distance: 1.7 miles

City National Grove of Anaheim

2200 Katella Ave.

Located next to Angel Stadium, this 1,700-seat venue hosts more than 250 events annually, including live concerts, comedy shows and to touring productions.

Distance: 2 miles

Angel Stadium

2000 E. Gene Autry Way, Anaheim

Home of the Los Angeles Angels, this 45,000-seat stadium is the place to catch the boys of summer as they take on competing MLB teams like the Astros and the Red Sox.

Distance: 2.3 miles

The Outlets at Orange

20 City Blvd West, Orange

A trendy outdoor mall located near the Garden Grove Freeway, The Outlets at Orange (aka The Block) is a mixture of outlet and retail stores, food and entertainment.

Distance: 2.5 miles

Honda Center

2695 East Katella Avenue

The Honda Center is home to the NHL's Anaheim Ducks and a top venue for concert tours and sporting events.

Distance: 2.6 miles

Anaheim Packing District

440 S. Anaheim Blvd., Anaheim

Located in the heart of downtown, this collection of refurbished buildings is Anaheim's newest communal gathering place. Enjoy 20+ artisan restaurants, live music and more.

Distance: 2.8 miles

Muzeo

241 South Anaheim Blvd, Anaheim

Engage and explore the diverse heritage of California via three unique traveling exhibits each year, as well as many permanent exhibits.

Distance: 3 miles

Discovery Science Center

2500 North Main Street, Santa Ana

With 100 hands-on exhibits, this place is so much fun, kids won't realize they're learning. Play virtual volleyball, make shapes in a pin wall and fly a model airplane.

Distance: 4.7 miles

Bowers Museum

2002 North Main Street, Santa Ana

This world-class museum of cultural art contains 85,000 art objects from around the world and regularly host special exhibits.

Distance: 4.7 miles

Westfield Main Place Mall

2800 N. Main Street, Santa Ana

This newly renovated mall has than 180 stores, including mainstream department stores and a variety of specialty shops and restaurants.

Distance: 5.4 miles

Pirates® Dinner Adventure

7600 Beach Blvd., Buena Park

The stage for this pirate-themed dinner show is a 46-foot Spanish galleon floating in a 250,000-gallon indoor pool. The action includes aerial stunts, sword fighting, singing and pyrotechnics, and more than 150 guests get to take part in the show.

Distance: 7.1 miles

Medieval Times® Dinner & Tournament

7662 Beach Blvd., Buena Park

Enjoy a four-course feast, watch amazing sword fights and cheer for knights in authentic costume as you're transported back to medieval times in this thrilling live-action dinner performance. The show is set in a castle just minutes from the Disneyland® Resort Parks.

Distance: 7.2 miles

Knott's Berry Farm

8039 Beach Blvd., Buena Park

America's first theme park, Knott's Berry Farm has 30+ rides, including thrill rides, family rides and rides for young children. It also has four great shows, including a Native American storytelling demonstration with amazing special effects, and activities such as panning for gold.

Distance: 8.6 miles

Orange County Performing Arts Center

600 Town Center Dr., Costa Mesa

This center presents many music, dance and theater productions each year, including symphonies, world-class dance performances, Broadway shows and family-friendly programs.

Distance: 12.7 miles

South Coast Plaza

3333 Bristol Street, Costa Mesa

The largest mall in Southern California and one of the largest in the U.S., South Coast Plaza features high-end luxury boutiques, restaurants and a collection of more affordable stores.

Distance: 13 miles

Huntington Beach

Featuring landmarks such as the Surfing Walk of Fame, Huntington Beach is all about surfing, with waves perfect for the sport and an entire surf culture permeating the area.

Distance: 15 miles

Newport Beach

Known primarily for its lively beaches, boardwalk and piers, Newport Beach and Balboa Peninsula, a small community nestled inside Newport Harbor, features coastal cottages, quaint shops and ice cream stands. Whale-watching cruises depart year-round. Mention Cortona Inn for a $15 rate at Newport Landing Whale Watching.

Distance: 17.7 miles

Fashion Island

401 Newport Center Drive, Newport Beach

This open-air mall features 200 shops, many of which can't be found anywhere else in Southern California. There are also more than 30 restaurants and several high-end department stores, including Bloomingdale's and Neiman Marcus.

Distance: 18.4 miles

Aquarium of the Pacific

100 Aquarium Way, Long Beach

This aquarium showcases everything from the beautiful coral reefs of the tropical Pacific to the sea otters of the North Pacific. It has more than 12,500 animals, and visitors can feed Lorikeet birds, learn about aquatic medicine and even touch sharks.

Distance: 19.5 miles

SpeedZone Los Angeles

17871 Castleton Street, City of Industry

Speed Zone is a racetrack, a mini bowling alley, an arcade and a miniature golf course, all rolled into one.

Distance: 20.8 miles

Citadel Outlets

100 Citadel Dr., Los Angeles

This popular outlet mall is located just off the I-5 Freeway and features more than 85 stores.

Distance: 21 miles

Laguna Beach

This popular arts community continues to thrive, thanks to dozens of galleries, museums and well-known events such as the Festival of Arts.

Distance: 23.9 miles

Dana Wharf

34675 Street of the Golden Lantern, Dana Point

Southern California is a great place to spot whales, dolphins, porpoises, sea lions and seals in their natural habitats.

Distance: 32.7 miles

Hollywood Wax Museum

6767 Hollywood Blvd., Los Angeles

Featuring more than 100 incredibly life-like replicas of past and current Hollywood actors, all made entirely from wax, the Hollywood Wax Museum is a must for movie fans.

Distance: 35 miles

San Diego Zoo Safari Park

15500 San Pasqual Valley Road, Escondido

Wander through herds of giraffe, take a jeep tour that brings you within feet of rhinos and buffalo, or come face to face with a lion in this unique, open-enclosure animal park.

Distance: 84.8 miles

SeaWorld® San Diego

500 SeaWorld Drive, San Diego

With all-new shows, exhibits and rides, Sea World San Diego has something to please everyone. See playful sea lions, majestic killer whales and acrobatic pets and enjoy eight thrill rides.

Distance: 90 miles

San Diego Zoo

2929 Zoo Drive, San Diego

This world-famous 107-acre zoo contains more than 4,000 animals representing 800 species. It is one of only a few zoos in the U.S. with giant pandas.

Distance: 93 miles
About Us

Located within walking distance of Disneyland® Park, our Tuscan-style hotel is a family favorite for theme park getaways.

Learn more

Gallery

See what makes picture-perfect Cortona Inn & Suites one of Anaheim's most popular hotels.

Learn more

"Walking distance to Disneyland"
Very friendly and helpful staff, nice breakfast, excellent value for money. We stayed here for 6 nights and really can't fault the place. We wanted a place close to Disneyland without costing a fortune and were very happy with Cortona Inn and Suites.

Michelle D

"Will definitely stay again!"
My family and I stayed at Cortona for the weekend. The hotel is not far from Disney which was super convenient! The beds were so comfy, the staff was awesome and it was very quiet. I will definitely book here again for my next Disney trip!

brentoiyat

"Great value"
This hotel is a great value for the quality of rooms they have. They're clean, updated and very comfortable. The beds were super comfy as well and compared to other hotels we've stayed at in the area, this takes top notch. I would absolutely recommend anyone to stay here. We will definitely be staying here again!

Renee P

"Great place to stay if you are going to Disneyland"
Rooms were rather nice. Housekeeping were wonderful! They always did little special things for us and our children while we were out. Management were so nice and helpful. There is a delicious continental breakfast every morning. They even have a convenient gift shop right in the lobby. We will definitely be returning!

mcalive2005