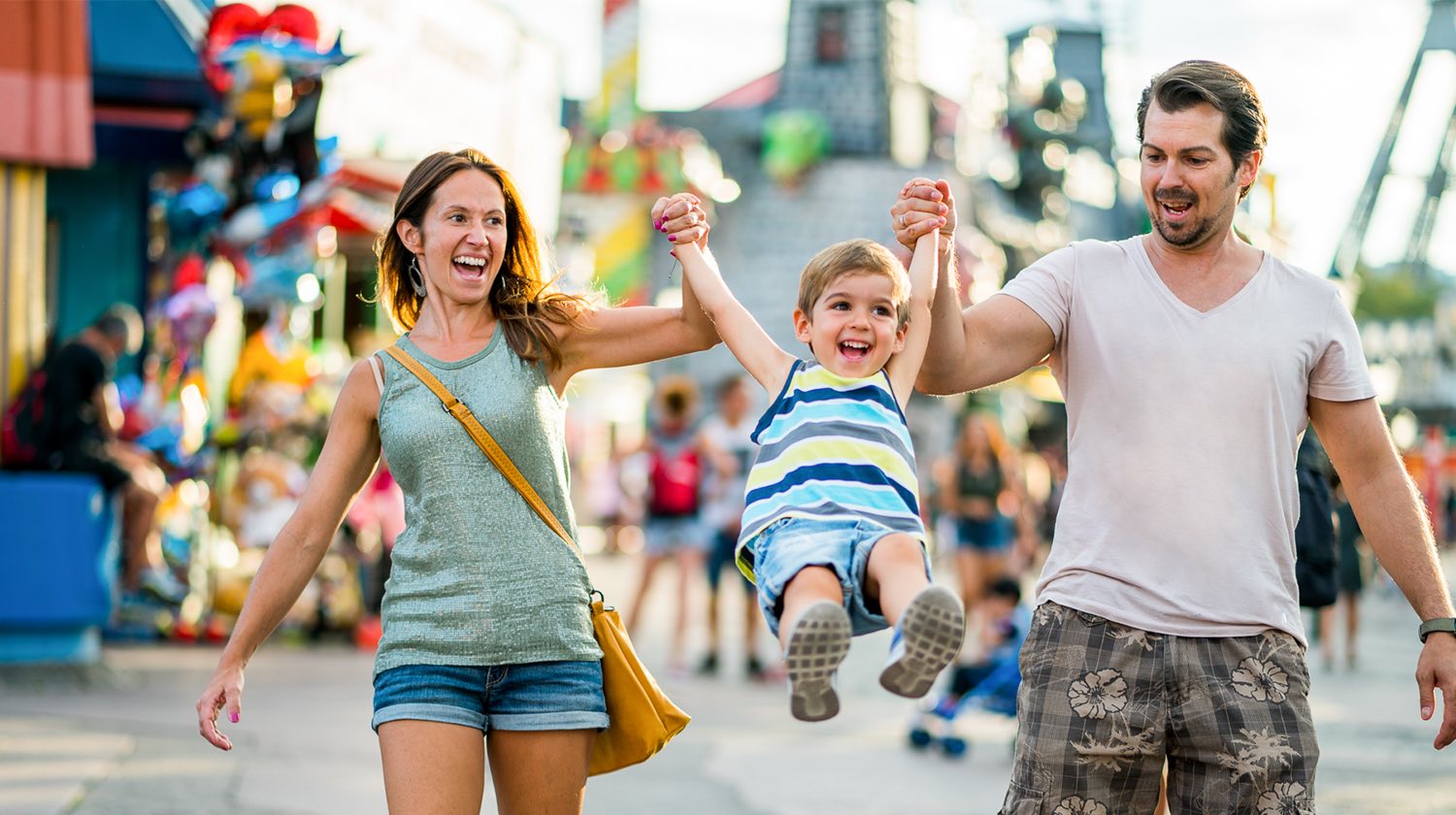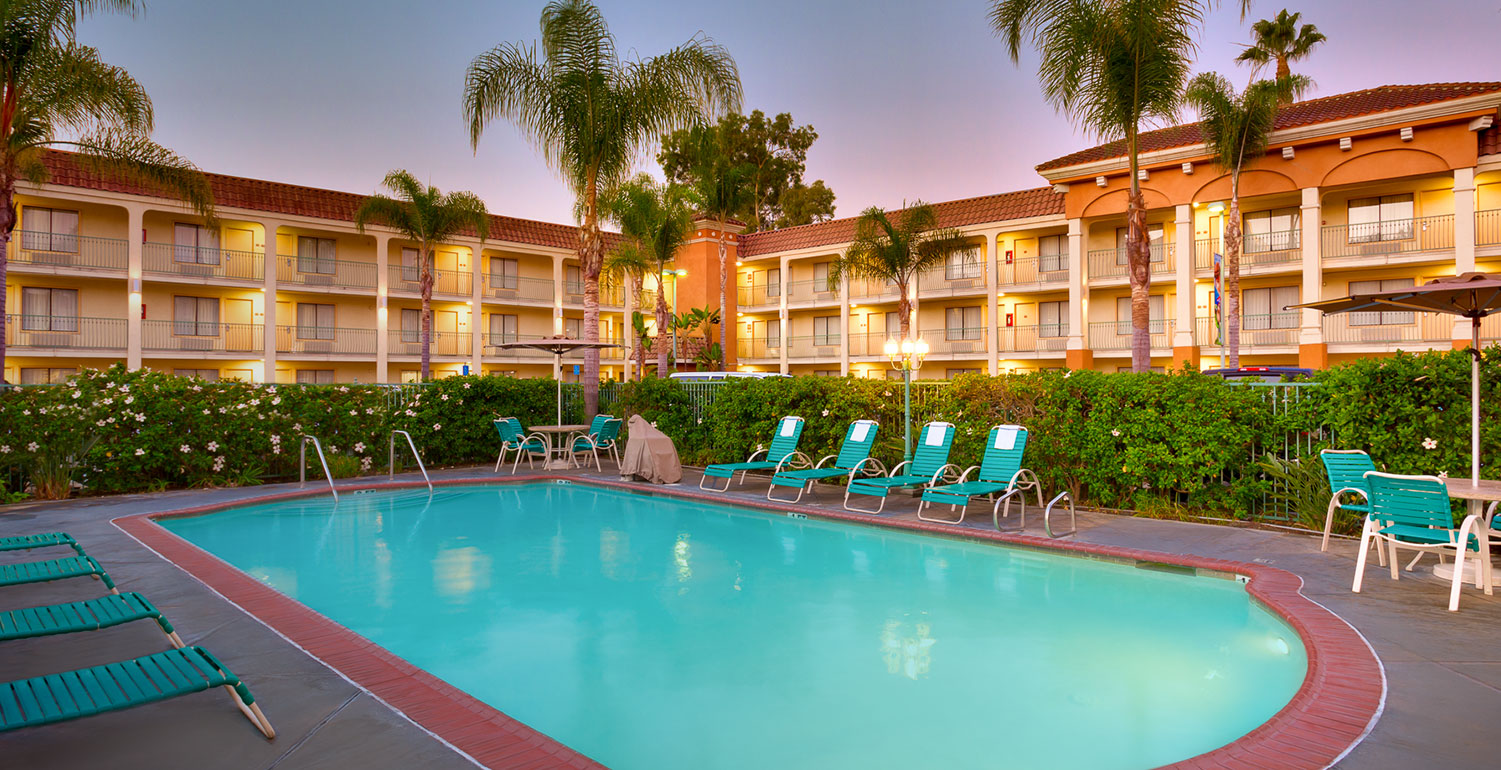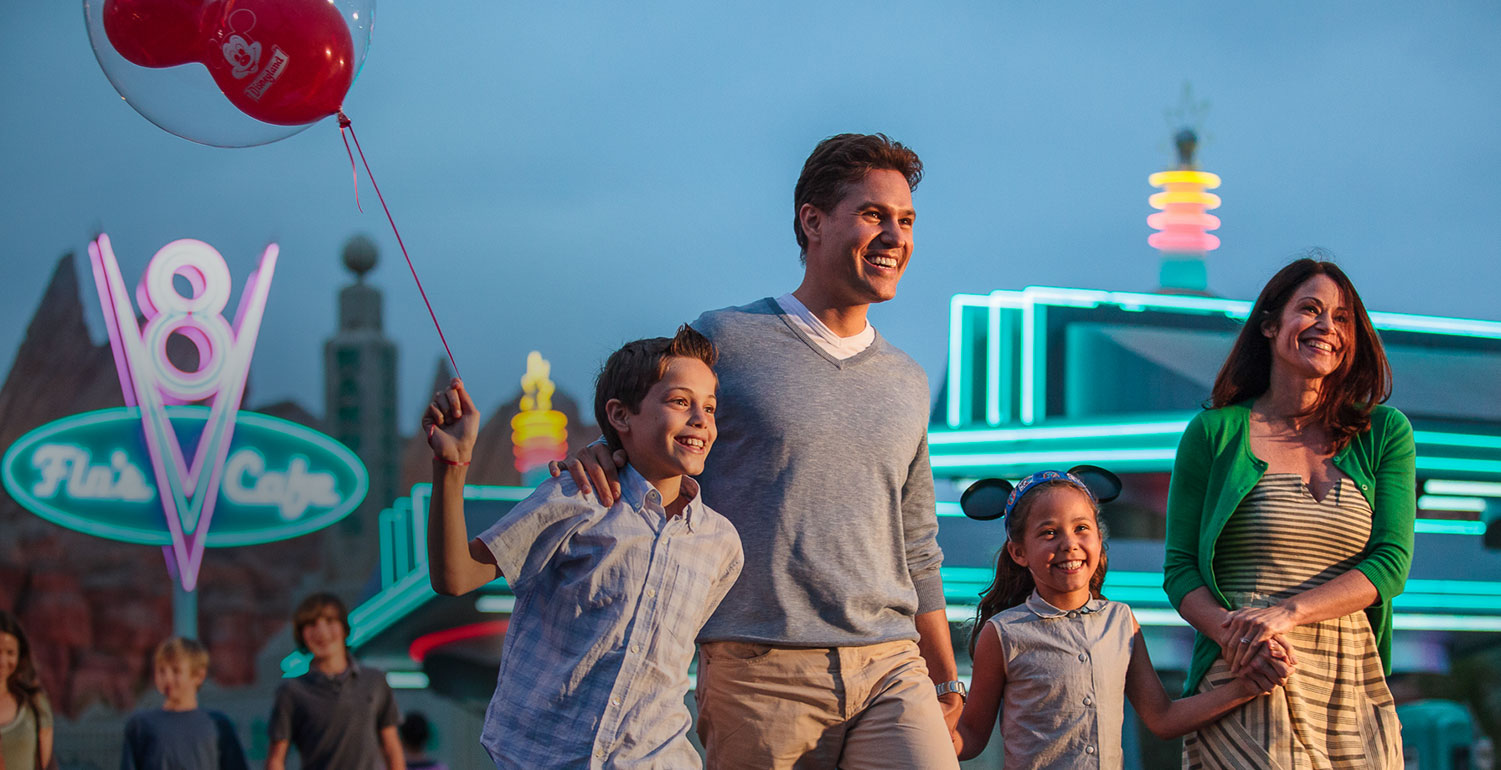 Anaheim's Best Address For Family Fun
Welcome to the Cortona Inn & Suites Anaheim Resort
A Tuscan-style treasure in heart of the Anaheim Resort District, the freshly renovated Cortona Inn & Suites is a tranquil oasis for both families planning a vacation to Disneyland® Park and business travelers heading to the Anaheim Convention Center. Highlights of this Disneyland® Resort Good Neighbor Hotel include 127 modern, affordable guest rooms and suites (including kids suites with bunk beds), free deluxe continental breakfast, free Wi-Fi and on-site ticket sales.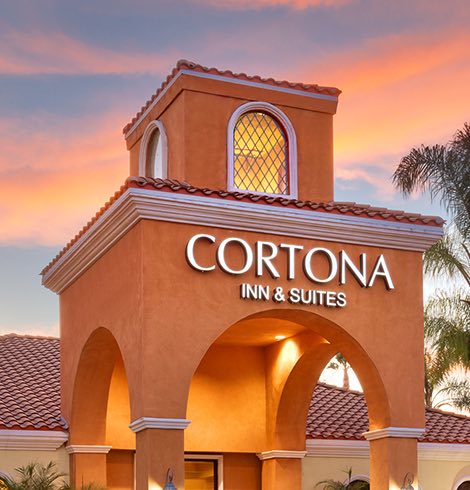 Buy your Disneyland® Park Hopper® tickets online with us now!
Things to Do
Check-in at our Disneyland Good Neighbor Hotel and check-out 127 modern, affordable guest rooms and suites. Let the fun begin!
The largest exhibit facility on the West Coast, the state-of-the-art Anaheim Convention Center is within walking distance of the Cortona Inn & Suites.
Home to the Los Angeles Angels, this MLB stadium seats 45,000 baseball fans. Tours of "The Big A" are offered when the team is on the road.
"The Happiest Place on Earth" is located just 1½ blocks from our door, making it easy for guests to walk to Disneyland® Park, Disney California Adventure® Park and the Downtown Disney® District.
"Disneyland vacation stay at Cortona"
My husband and I along with my daughter, son-in-law and 2 grand daughters stayed at Cortona Inn. It was a perfect stay, My daughter had a room with a separate room with bunk beds for the girls, which was super for them. Our room had 2 queen beds which were super comfortable.
"Great selection for breakfast"
Nice hotel with you being able to purchase Disney tickets at the hotel and not have to stand in line at Disney. You can purchase ART transportation tickets also at the front desk. People that worked at the hotel were all friendly.
"Loved Cortona!!"
My friend and I decided to make a little quick weekend trip to Disneyland and chose Cortona Inn and Suites as our hotel. I am so glad we did!! They offered a great rate, free parking, free wifi and a complimentary breakfast.
Rooms & Suites
One Bedroom Toscana Kids Suite
Sleeps up to 6 guests
Max 4 adults
355 Sq. Ft.
Deluxe King
Sleeps up to 2 guests
2 adults/1 child
324 Sq. Ft.
Deluxe Double Queen
Sleeps up to 4 guests
2 adults/3 children
318 Sq. Ft.
VIEW ALL ROOMS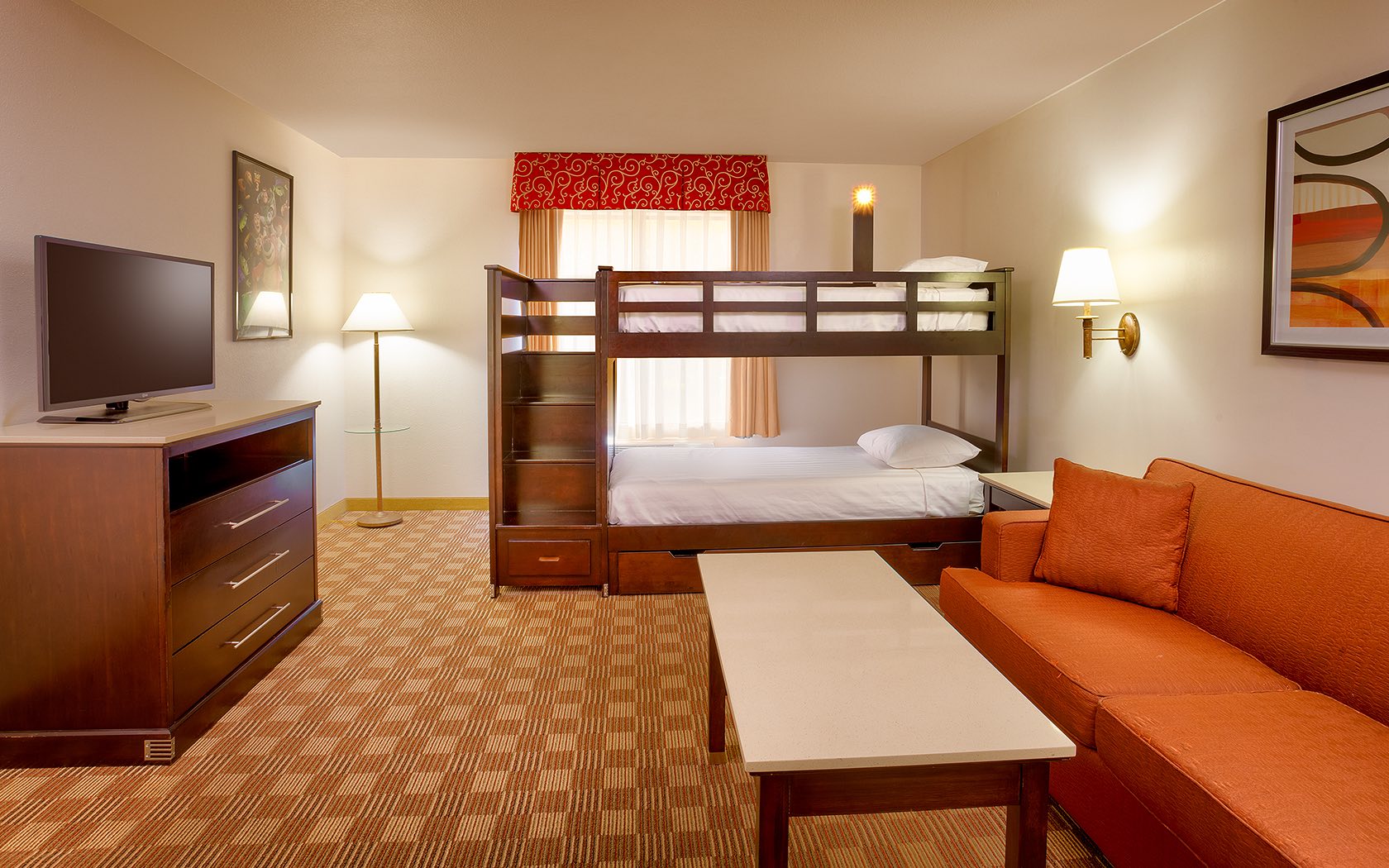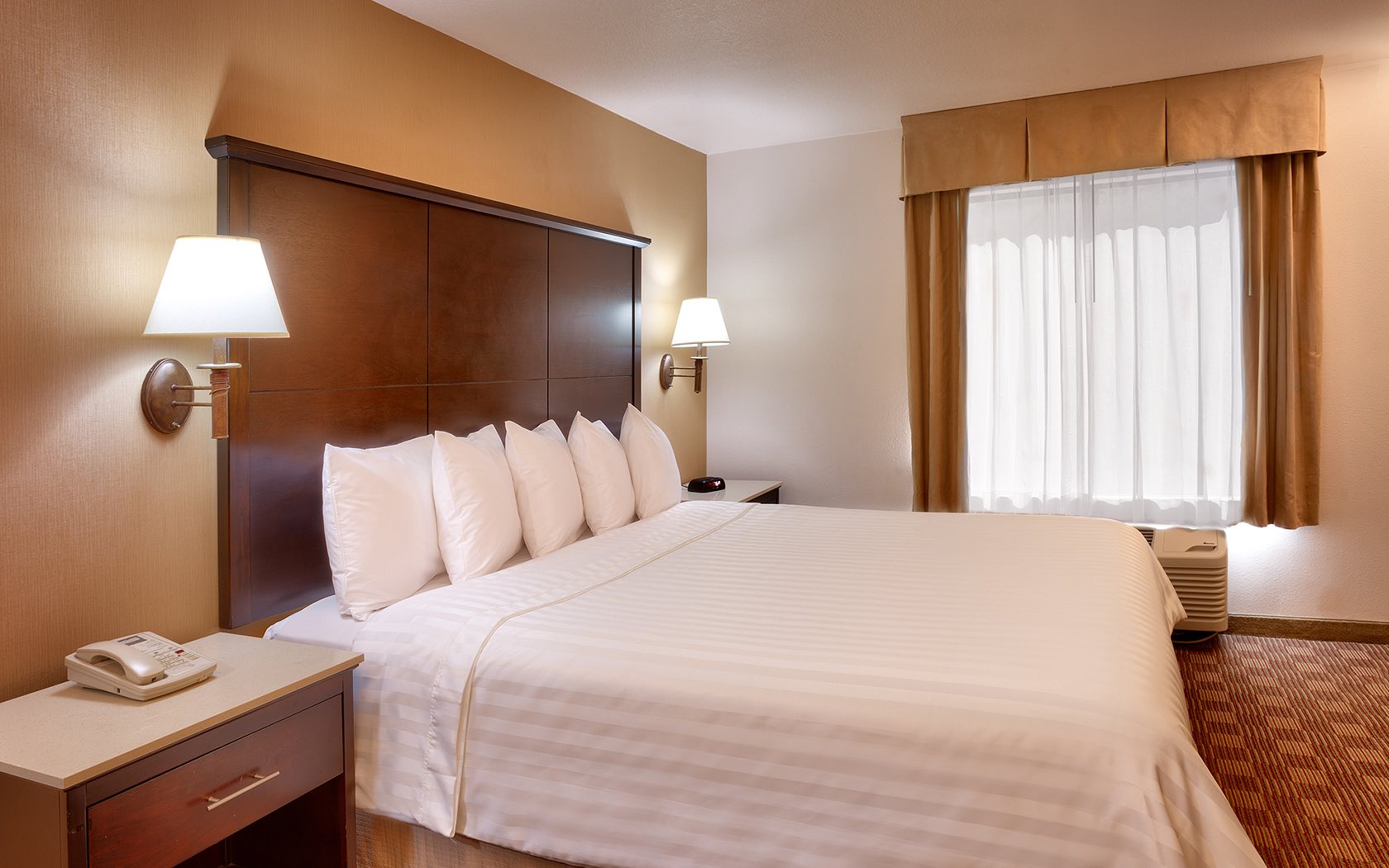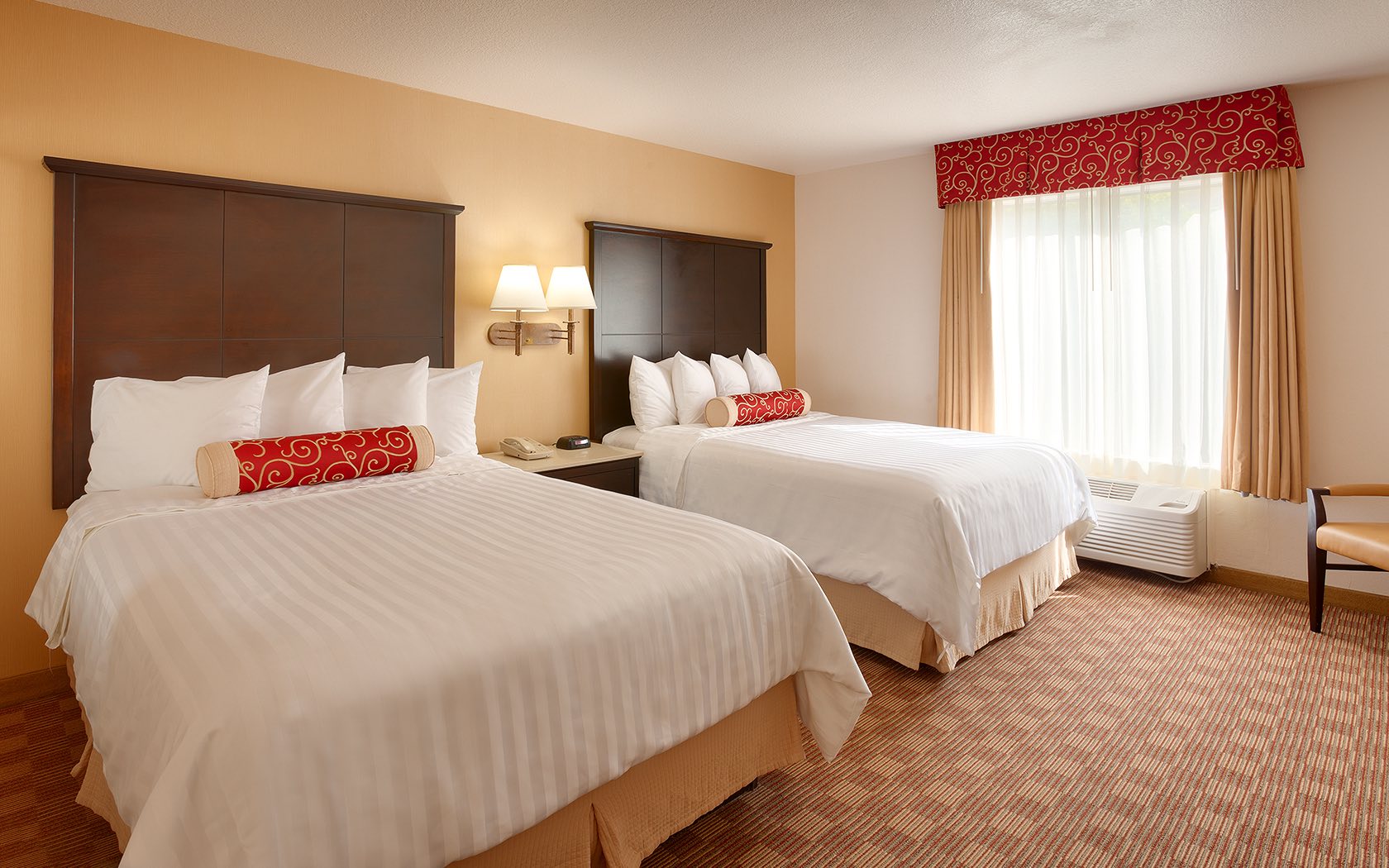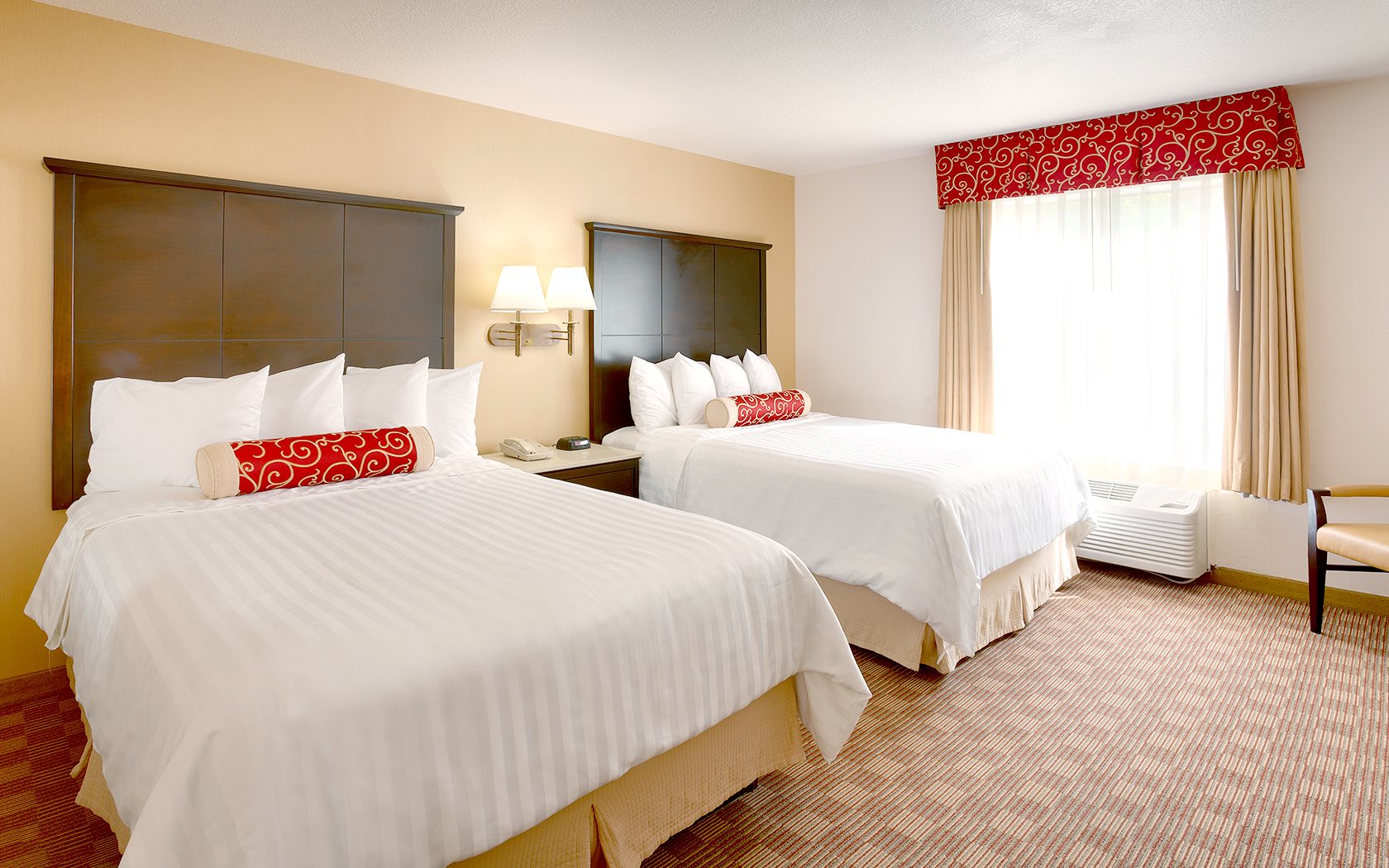 Local Conventions
30
Aug
SoCal Chess Championships
San Diego Concierge
08
Sep
EMDRIA Annual Conference 2019
EMDR International Association
09
Sep
CCBC 2019
Global Strategic Management Institute
13
Sep
T.H.E. Show Newport
The Home Entertainment (T.H.E) Show
15
Sep
CSCMP EDGE 2019
Council of Supply Chain Management Professionals
16
Sep
BOLD - 2019
Mindbody, Inc.
18
Sep
Emery Jensen 2019 Fall Show
Ace Hardware Company
24
Sep
CAMX 2019
CAMX - The Composites and Advanced Materials Expo
29
Sep
2019 World Burn Congress
Phoenix Society for Burn Survivors
01
Oct
2019 A4LE Annual World Conference & Expo
Association for Learning Environments
03
Oct
2019 Adult Education Block Grant
Sacramento County Office of Education
14
Oct
2019 Fresh Summit International Convention & Expo
Produce Marketing Association
16
Oct
2019 Annual Fall Seminar
California Society of Health-System Pharmacists
20
Oct
Calnoc - 2019
Collaborative Alliance for Nursing Outcomes
21
Oct
2019 Global Summit North America
CoreNet Global Inc.
26
Oct
2019 House of Delegates/Annual Meeting
California Medical Association/California Medical Association Foundation
01
Nov
2019 World Congress of Psychiatric Genetics
International Society of Psychiatric Genetics
01
Nov
2019 Reach Conference
Sensus Reach
10
Nov
CETPA 2019 Annual Conference
California Educational Technology Professionals Association
13
Nov
2019 Annual Biomedical Research Conference for Minority Students (ABRCMS)
American Society for Microbiology
18
Nov
2019 Coffee, Tea, Water
National Automatic Merchandising Association
20
Nov
2019 CBO Symposium
California Association of School Business Officials
22
Nov
DesignerCon 2019
DesignerCon
30
Nov
CareerTech VISION 2019
Association for Career and Technical Education
02
Dec
2019 Leadership Update Conference
Charter Schools Development Center
03
Dec
2019 December TPEP
Moss Adams, LLP
06
Dec
2019 Parent and Family Engagement Conference
National Head Start Association
07
Dec
Holiday Event 2019
Hensel Phelps Construction Company
09
Dec
2019 STEAM Symposium
Californians Dedicated to Education Foundation
11
Dec
2019 Holiday Classic
Southern California Volleyball Association
15
Dec
2019 CalWORKs Summit
California Department of Social Services - CalWorks
27
Dec
College Showcase
Anaheim RINKS
27
Dec
2019 Youth Holiday Classic
Anaheim RINKS
27
Dec
2019 Youth Holiday Classic
Anaheim RINKS